Introduction
Aqua di Giò Profondo is a men's fragrance from the Italian luxury fashion house of Giorgio Armani. Released in 2020, this scent is a fresh interpretation of the original Aqua di Giò, which was first introduced in 1996. With its deep oceanic notes and aquatic freshness, Aqua di Giò Profondo is the perfect scent for summer or for those who love the ocean. In this blog, we'll take a closer look at this scent and what makes it special, along with its packaging, notes, price, review, experience, and conclusion.
Packaging
Aqua di Giò Profondo cologne sample comes in a sleek, dark blue bottle with a silver cap. The bottle's design is reminiscent of the ocean's depths, with its dark blue color and the fluid lines of the glass. The packaging is simple, yet elegant, and reflects the scent's fresh and modern nature. The bottle is available in various sizes, including 1.7 oz, 2.5 oz, and 4.2 oz, making it easy to find the right size for your needs.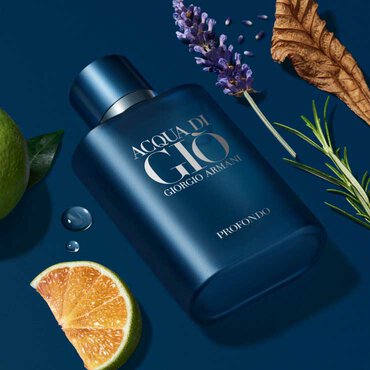 Notes
Aqua di Giò Profondo is a complex fragrance with a unique combination of top, middle, and base notes. The top notes include bergamot and green mandarin, giving it a fresh and citrusy aroma. The heart of the fragrance is a blend of lavender, rosemary, and cypress, which adds a hint of earthiness and herbaceousness to the scent. Finally, the base notes consist of patchouli and musk, which give the fragrance its depth and longevity.
Price
Aqua di Giò Profondo is a high-end cologne sample which is reflected in its price. The cost varies depending on the size of the bottle, with the 1.7 oz bottle starting at around $70 and the 4.2 oz bottle priced at around $118. Despite its cost, many fragrance enthusiasts consider it worth the investment, as it is a versatile scent that can be worn for a variety of occasions.
You can try this amazing Aqua di Giò Profondo from cologne sample
Review
Aqua di Giò Profondo has received overwhelmingly positive reviews from both fragrance enthusiasts and casual users. Many people praise its unique and refreshing blend of citrus and herbal notes, along with its long-lasting staying power. Some users have also commented on its ability to evoke the feeling of being near the ocean, making it a perfect scent for those who love the sea.
Experience
The experience of wearing Aqua di Giò Profondo cologne sample is a fresh and invigorating one. The initial burst of citrus and green mandarin gives way to a more earthy and herbal scent, before settling into a deeper, muskier base. The fragrance is perfect for summer days or casual occasions, but can also be worn for more formal events.
Conclusion
Aqua di Giò Profondo is a fragrance line that has been around for several years, and its cologne samples have become increasingly popular with those who want to test out their scents before purchasing the full-size bottle.
After trying out the samples, many customers have commented on the fresh and invigorating scent of Aqua di Giò Profondo. The fragrance is perfect for warm weather and casual occasions, making it a great addition to any collection.
One of the standout features of Aqua di Giò Profondo's cologne sample is its longevity. Many customers have reported that the fragrance lasts for several hours, making it a great option for those who want a long-lasting scent.
In conclusion, if you're looking for a fresh and long-lasting fragrance to try out, Aqua di Giò Profondo cologne samples are a great choice. They offer a chance to experience the brand's signature scent without committing to a full-size bottle, and the positive feedback from customers suggests that they are definitely worth a try.