Why is J'Adore an iconic perfume?
History
In 1947, Christian Dior, the founder of the Dior brand, launched the company's first fragrance, which he affectionately called Miss Dior and dedicated to his sister Catherine. Dior perfumes were designed to complement the firm's newly introduced clothing lines. However, even though it wasn't released until more than 50 years after J'Adore, many people who are obsessed with beauty consider it to be the brand's greatest achievement.
Since it was first released in 1999, J'Adore has seen a meteoric rise in popularity; nevertheless, what characteristics give it its legendary status? Its fragrance? Which bottle is it? What is its lineage? It is a strong mix of all three elements.
Creators
J'Adore Perfume is a golden liquid that bestows the skin with a matte luster and a hedonistic aroma. It has been described as "what solid gold would smell like if it had a scent" (if solid gold had a scent), which is the epitome of wealth. Dior created J'Adore with the help of French master perfumer Calice Becker, who is well known as the nose behind some of the most well-known and beloved perfumes in the business.
Consider the women's wear lines Tommy Girl by Tommy Hilfiger, Lola by Marc Jacobs, Rock Princess by Vera Wang, and Secret Obsession by Calvin Klein. J'Adore, on the other hand, is arguably the most impressive example of her work.
Scent
What Becker has created is a fragrance that is floral but has an edge to it; it is sweet but balmy. Those with a highly developed sense of smell will recognize fresh mandarin and ylang-ylang in the top; jasmine, orchid, plum, and rose in the middle; and amaranth, blackberry, and musk in the trail. This intricate combination of notes guarantees that it is not overly floral, overly sweet, or overly spicy.
They interweaved to create a perfume with which few people could find fault, which eventually contributed to its success. Its stunning bottle needs to be a contributing component to the appeal of its product. It is indisputable that this piece was intended to take centre stage on a dressing table, given its sophisticated and appealing appearance.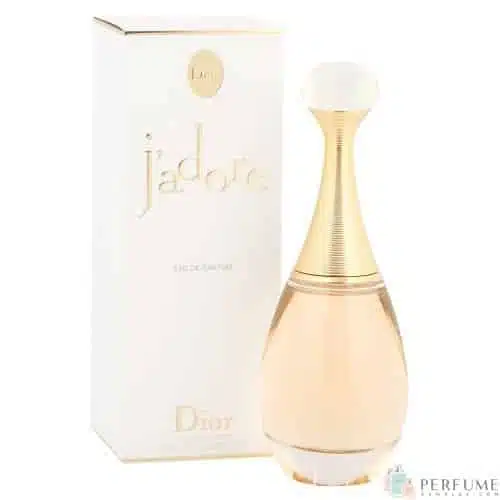 Inspiration
Hervé Van der Straeten, the designer of the J'Adore bottle, started his preliminary research for the project at the beginning of the year 1999. He considered ancient amphoras, which are curved-shaped vessels that originated in Greece. Amphoras had been a source of inspiration for Christian Dior himself when he first introduced his New Look dress designs in 1947. In contrast to the loose-fitting clothing of the 1920s and 1930s, these dresses featured rounded shoulders, a cinched waist, and a full, A-line skirt to create an hourglass silhouette that had not been seen before. Christian Dior debuted his New Look dress designs.
It is possible that the name of the scent is one of the qualities that stands out the most. Expressions are not typically used for naming fragrances, which is one reason why J'Adore stands out among other scent names. This practice continues to this day. Because Christian Dior was known to utter the phrase "j'adore" whenever he saw a model wearing one of his designs for the first time, this perfume is very nostalgic and a loving expression.
Get your hand on this stunning Christian Dior j'adore Perfume Sample now!