Ariana Grande Cloud is a rich, luxurious and sweet perfume. It has playful overtones that make it perfect for any young woman looking to add a little spice to their fragrance collection. 
Especially, this perfume lasts all day long and smells amazing!  There are also many reasons why this perfume is the best, in our opinion: it's not too strong but still manages to last long; there are no harsh or chemical undertones that can irritate your skin; the bottle design is sleek and stylish. 
Read on this blog for a thorough description and review of this fragrance!
Ariana Grande Cloud.
Ariana Grande Cloud Description
Released in 2018, Ariana Grande Cloud Perfume Sample for women marks the enigma and mystery of the Ariana Grande brand. 
Overall, the product is famous for its luxurious and rich delightful notes, playful overtones. The top notes are bergamot, pear, and lavender that set up for the fruity floral tones that come next. 
Ariana Grande Cloud perfume is one of the top trendy samples in 2020 thanks to the feelings it brings: Beautiful, kind, clean, feminine, important, refined, special, classy, sexy, elegant, warm, alluring, confident, independent, mysterious, happy. 
Top note: A perfect blend of juicy pear, lavender blossom, and aromatic bergamot.

Heart note: The heart note of Ariana Grande Cloud is the perfect balance between sweet and creaminess from coconut milk, as well as an exotic scent of vanilla orchid that will make you think of tropical flowers in bloom after a rainfall shower during sunset hours.

Drydown note: The rich, earthy fragrance of cashmere and musks creates an alluring atmosphere that seduces your senses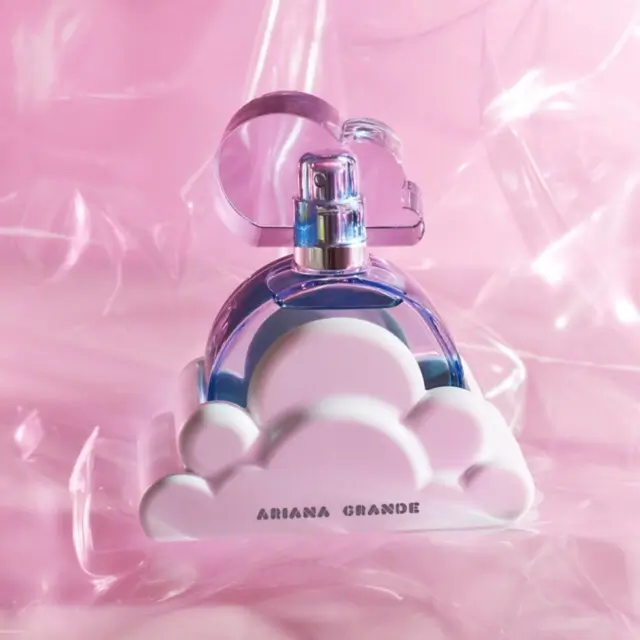 Luxurious scent.
Ariana Grande Cloud Review
If you are interested in this fragrance, here is a thorough review of it!
Scent
This ariana grande cloud scent is a transformative experience. With each spritz, you are immediately transported to an otherworldly place where time stands still, and everything smells absolutely amazing! 
There's something about this particular perfume that just makes us smile with joy in our hearts because no matter how hard life gets. As soon as they wear it, people seem happier around me without even knowing why (or maybe they do!).
After one hour, you are met with a sensual and warm vanilla gourmand that's not too sweet or headache-inducing. It has fluffy marshmallows for sweetness without any hint of irritation on your nose! This scent will make you smell like a beautiful angel with all the compliments, double-takes, and stares.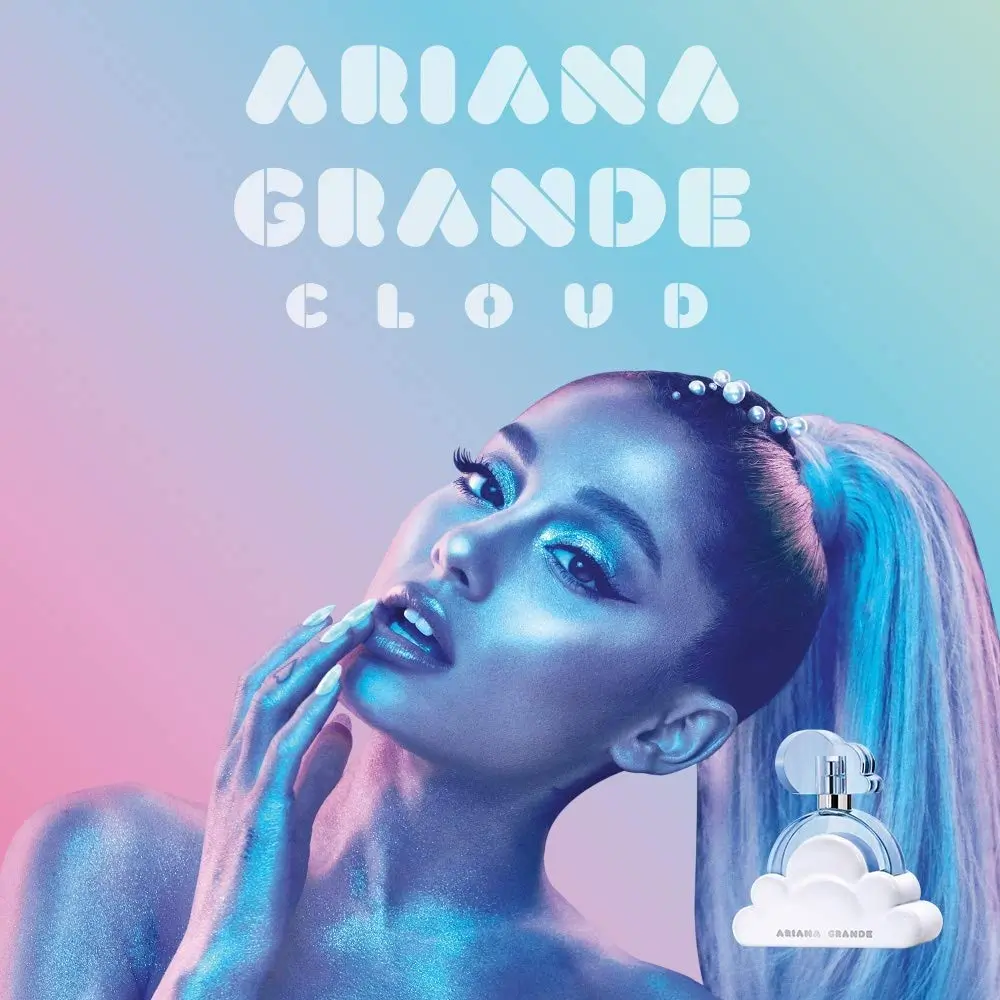 The scent of beautiful angels.
Projection
If you want to be the center of attention, this is your ariana grande cloud scent! It will make people notice and question who smells so good? The projection in the first hour is moderate-very good as people standing approximately 6ft from you can sense it!
The fragrance of this perfume lingers long after the skin absorbs it, giving off a very close to being body scented presence, making people wanting to know more about it. 
The scent is indeed intimate and enchanted, like a small secret between lovers that intrigue your soulmate. Based on our experience, the projection only slightly changes if you apply the fragrance to your clothing.
Sillage
After an hour, the ariana grande cloud scent will become a skin smell. If sprayed onto clothing, it can be detected much better and stronger than before without any lingering odors in the air. 
We suggest you spray it on your clothing; the sillage will be much better in this way!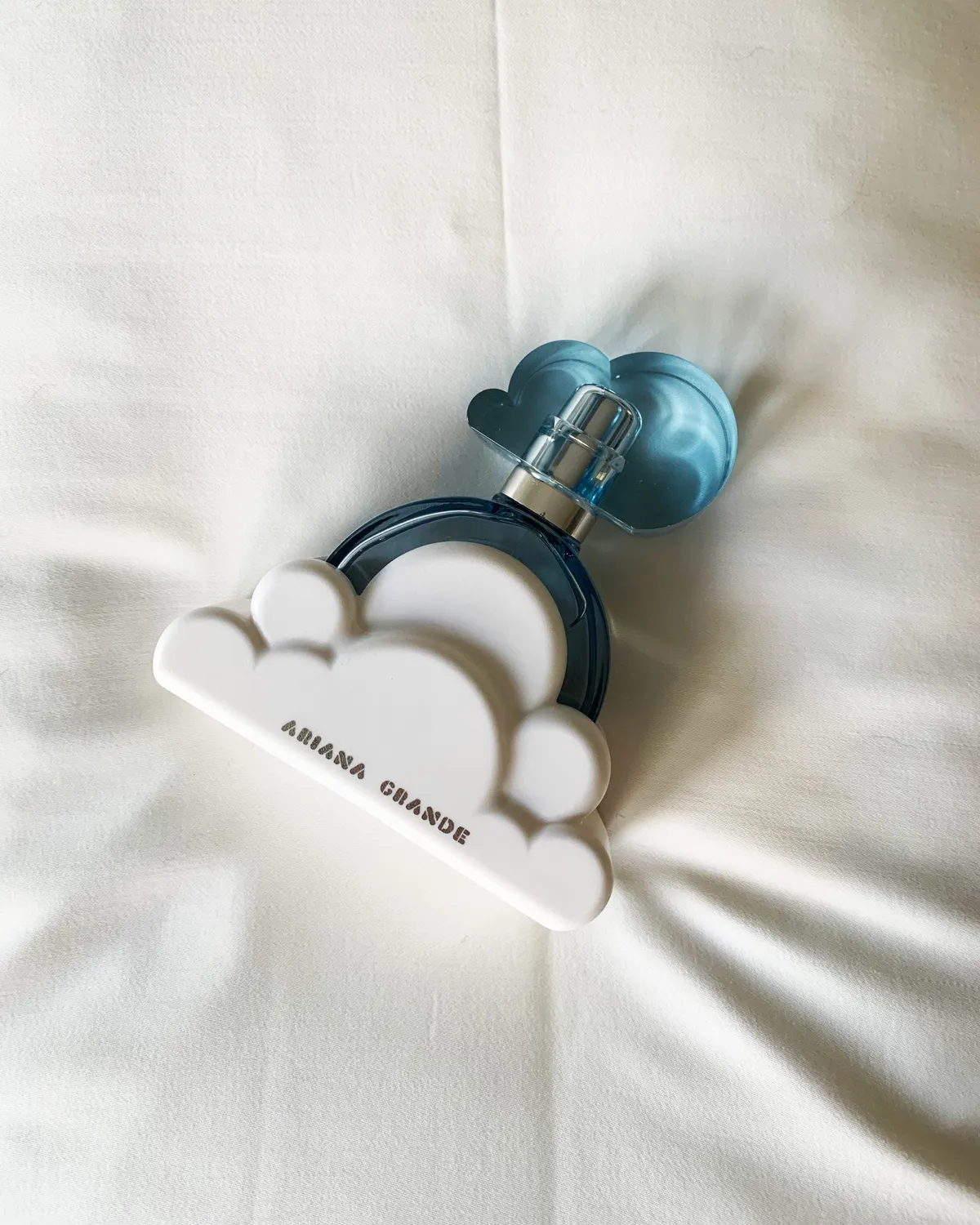 Long last scent.
Longevity
The ariana grande cloud scent lasts for 12 hours, and you can feel it throughout your day. Sometimes at the end of a long workday, you'll smell these bursts of scent that make you smile as they remind you of all the beautiful and good moments of the day! 
It's difficult to detect the smell at first, but once you put your nose right up against the fabric and breathe out deeply for about 20 seconds, you will be able to pick up every juicy scent! 
Besides, it lasts all day long on clothing! Believe it or not, the scent will still keep lingering on your clothes after two days have passed without a sign of scent decrease! 
Frequently Asked Questions
Who would Cloud be good for?
I personally think that this ariana grande cloud scent would be best for anyone who is at least 20 years old. If you're a teenager, you'll still smell good. Yet, this fragrance is very much out of your league – it's a grown woman scent that uses the scent to express that  "I bought this myself because I like it, and I can."
A lady with class, elegance, and mystery is what you will smell like when wearing this fragrance.
When is the Best time to wear Cloud? 
Fall and winter are most suitable to wear Cloud, but they don't have to be the only time you wear your favorite scent! This is not just one for special occasions; it's something that can help define who you are in all seasons. 
You can wear this to work or on the weekends. It's perfect for when you're looking to make a good impression, and it will get people excited about what else is going on in your life! 
The fragrance of this cologne can be worn anywhere with confidence. You will never feel inappropriate wearing it, no matter what you're doing – from the boardroom meeting to a night out on the town!
Conclusion
Overall, Ariana Grande Cloud is a perfume for grown women who know what they want in life. It's not too sweet; it's not fruity; the fragrance has an exclusive scent that can be worn any time of day or night and on any occasion. The packaging itself feels like you're opening up something luxurious with its glass bottle and gold accents.
Indeed, it is a perfect choice for women who want their signature scent to scream "high-class." If you want your new signature fragrance to say, "I am high class, I have taste, my life is glamorous!" then this one might just be the right fit for you!