Intro:
Perfume is an essential part of our daily routine. It is a way to express ourselves and leave a lasting impression on others. Replica Beach Walk by Maison Margiela is a perfect choice for those who love a light and refreshing scent. If you're considering purchasing this perfume, then a sample can be a great way to try it out. In this blog post, we will review the Replica Beach Walk cologne sample and provide you with all the necessary information you need to know before making a purchase.
Packaging:
The Replica Beach Walk sample comes in a small glass bottle with a spray nozzle. The bottle is very minimalistic and elegant, with a simple label that reads "Replica Beach Walk" and the Maison Margiela logo. The bottle is compact, making it easy to carry in your purse or travel bag.\
Notes:
The Replica Beach Walk perfume is a unisex fragrance that is perfect for summer. The scent is inspired by a beach walk, with notes of bergamot, lemon, pink pepper, and ylang-ylang. The perfume also has a hint of coconut milk, musk, and heliotrope, which gives it a warm and creamy scent.
Price:
The price of the Replica Beach Walk sample varies depending on where you purchase it. On average, the cologne sample costs around $4-$6, which is a reasonable price considering that it allows you to test the fragrance before making a bigger investment.
You can try this amazing Replica Beach Walk from cologne sample
Review:
The Replica Beach Walk sample has received many positive reviews from fragrance enthusiasts. The perfume has a refreshing and calming scent that reminds you of a walk on the beach. The citrus and floral notes are perfectly balanced, creating a beautiful harmony. The coconut milk and musk give the perfume a warm and creamy scent that is perfect for the summer.
Experience:
I tried the Replica Beach Walk sample and was pleasantly surprised by the scent. It has a very refreshing and calming scent that immediately reminded me of a day at the beach. The fragrance is light and airy, making it perfect for the hot summer months. I found that the scent lasted for around 5-6 hours, which is impressive for a light fragrance.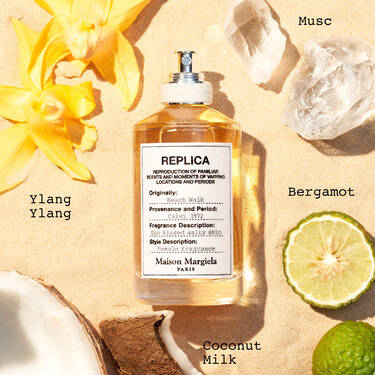 Conclusion:
Replica Beach Walkis a fragrance line that captures the essence of a beach vacation, and their cologne samples are a great way to experience their scents without traveling to a beach destination.
Customers who have tried out the Replica Beach Walk cologne sample have commented on the fresh and summery scents that are perfect for warm weather. The fragrance is a great way to bring the feeling of the beach to your daily routine.
One of the standout features of Replica Beach Walk cologne samples is the attention to detail in recreating the scents of the beach. Customers have appreciated the blend of coconut, citrus, and floral notes that create a unique and memorable fragrance.
Additionally, the fragrance is not overwhelming and can be worn every day, making it a versatile option for any occasion.
In conclusion, if you're looking for a fresh and summery fragrance to try out, Replica Beach Walk's cologne sample are a great choice. With attention to detail in recreating the scents of the beach and a versatile fragrance, they are definitely worth trying out.