Why Every Woman Should Own Viktor & Rolf Flowerbomb
Flowerbomb is readily recognized owing to its delicate yet earthy aroma, even after just a single whiff. When it was first introduced in 2005, that particular combination of rose, bergamot, freesia, patchouli, orchid, and jasmine was responsible for every one falling in love with it. Over the last ten years, Flowerbomb has established itself as a product worthy of being displayed on the vanities of the most discriminating beauty enthusiasts.
When women have been asked what they are wearing since one can't quite recognize it, nine times out of ten, they have responded with the word "Flowerbomb."
It is incredible how different it may smell on different women, which is one of the many reasons it has such a widespread appeal.
Flowerbomb Perfume, introduced by Viktor & Rolf a decade ago, was the spark that set the fashion world ablaze. They were taken aback by the speed with which their first scent became a runaway hit and propelled them into the public consciousness.
Rolf Snoeren and Viktor Horsting first crossed paths at the Arnhem Academy of Art and Design in the Netherlands, where both were pursuing degrees in fashion design. In 1993, shortly after they received their degrees, they started working together.
Although they may have beginnings in haute couture, they have also experimented with other areas of the fashion industry, including ready-to-wear and collaborations with fast-fashion stores. Flowerbomb, a perfume that has been described as having "an attractive flowery aroma encased in a hard-edged, grenade-shaped bottle," is another example of how the topic of combining opposites can be seen.
How was the procedure that was used to create the scent?
Because the word Flowerbomb is so conjuring, it served as a very clear roadmap for us to follow in determining the direction we wanted to go in with it. Despite this, it took a very long period because it takes time to perfect a fragrance and industrialize the packaging, bottle, and other product components. It is estimated that they sampled between 300 and 400 different iterations of the fragrance before it reached its final form. Approximately three years were needed to complete the full operation.
Where did they obtain the inspiration for that instantly recognizable grenade bottle?
Flowerbomb served as a point of departure that was crystal clear for the project. They only thought, "I wonder what a Flowerbomb smells like and how it looks." The bottle needed the appearance and feel of a glamorous and opulent weapon, like a diamond grenade; it needed to be seductive but with a hard edge.
What sparked the idea for the fragrance in the first place?
They desired an abundance of flowers, almost like a riot of color. On the other hand, Flowers tend to emit an aroma that is a little bit dated, so they decided to give it a contemporary twist.
THE PURSUIT OF PERFECTION PAYS OFF
Flowerbomb Ruby Orchid is Great Too!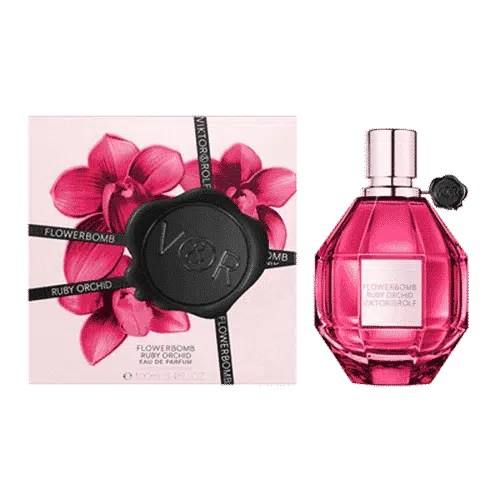 Flowerbomb by Viktor & Rolf is now ranked thirteenth on the list of the most feminine perfumes in the world and third in Australia. This is a significant accomplishment taking into account that it is shown on only 35% of fragrance doors across the world.
Every year, they introduce brand-new Flowerbomb goods in addition to celebrating limited editions. If you don't already own one of these, head over to Perfume Sample and instantly make your purchase! It will be worth it.