Vera Wang Princess Perfume
Vera Wang Princess perfume is a well-known fragrance that has been popular for many years. Created by fashion designer Vera Wang, this Perfume has a unique blend of fruity and floral scents that create a feminine and youthful aura. In this blog, we will delve into the history, composition, and popularity of Vera Wang Princess Perfume. 
History 
Vera Wang is a renowned fashion designer known for her bridal gowns. She launched her first perfume, Vera Wang for Women, in 2002. This perfume was a massive success and received positive reviews from critics and customers. Since then, Wang has created many other fragrances, including Vera Wang Princess Perfume in 2006. 
Vera Wang Princess was created with a younger audience in mind, but its appeal quickly spread to people of all ages. The perfume was designed to evoke a fairytale fantasy, with a princess theme that runs throughout the packaging and marketing materials. The bottle is shaped like a heart and has a golden crown cap, while the packaging is a light purple color that represents femininity and elegance. 
Composition 
Vera Wang Princess Perfume is a floral-fruity fragrance that is both light and refreshing. It features a blend of different scents that work together to create a unique aroma. Some of the top notes in this fragrance include apple, water lily, and mandarin. These notes provide a fruity and fresh scent that is perfect for spring and summer. 
The heart of the fragrance includes a blend of floral scents, such as tuberose, guava, and dark chocolate. The tuberose gives the fragrance a sweet and floral scent, while the guava adds a tropical twist. The dark chocolate note is not overpowering but adds a subtle hint of richness to the perfume. 
The base notes of Vera Wang Princess Perfume include vanilla, amber, and musk. These notes provide a warm and sensual aroma that lingers on the skin. The vanilla note adds a creamy and sweet scent, while the amber and musk provide a slightly woody and earthy scent. 
Overall, Vera Wang Princess Perfume is a well-balanced fragrance that combines fruity and floral scents with warm and sensual notes. This combination creates a fragrance that is perfect for any occasion, whether it be a casual day out or a formal event.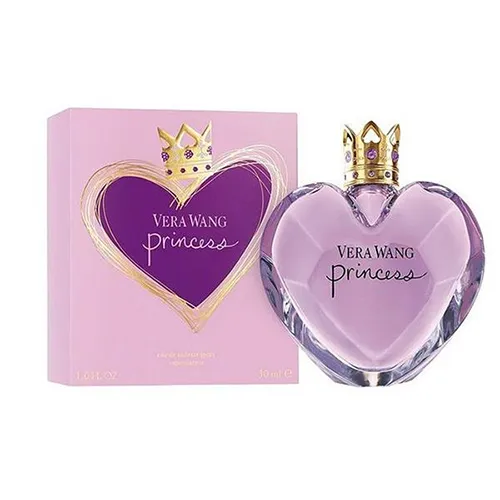 Popularity 
Vera Wang Princess Perfume has been a popular perfume since its release in 2006. It has received positive reviews from customers and critics alike and has won several awards. In 2007, the fragrance won the FiFi Award for Fragrance of the Year in the Women's Private Label/Direct Sell category. 
The popularity of Vera Wang Princess can be attributed to its unique blend of scents and its packaging. The heart-shaped bottle with a golden crown cap appeals to a younger audience and adds to the fairytale theme of the perfume. The light purple packaging also adds to the feminine and elegant image of the perfume. 
Vera Wang Princess has also been advertised by several celebrities, including actress Zoe Kravitz and singer Avril Lavigne. These endorsements have helped to increase the popularity of the fragrance, especially among younger audiences. 
Conclusion 
Vera Wang's Princess Perfume is a delightful fragrance that has captured the hearts of many perfume enthusiasts. It is a scent that exudes femininity, grace, and a touch of whimsy. From its charming bottle design to its enchanting scent, this perfume embodies the essence of a modern-day princess.
The fragrance opens with a sweet and fruity blend of apple and water lily, which instantly brings a playful and youthful vibe. As it settles on the skin, floral notes like tuberose and dark chocolate emerge, adding depth and sophistication to the scent. The base notes of vanilla and amber create a warm and comforting aura, leaving a lasting impression.
The packaging of Vera Wang Princess Perfume is truly eye-catching. The bottle is shaped like a fairytale princess' crown, adorned with a faceted glass and a whimsical heart-shaped top. This attention to detail showcases the brand's commitment to creating a truly enchanting experience.
What sets this perfume apart is its ability to transport the wearer into a world of fantasy and romance. With each spritz, it evokes a sense of elegance and femininity that makes you feel like royalty.
In conclusion, Vera Wang Princess Perfume is a must-have for anyone seeking a fragrance that captures the essence of modern-day princesses. Its playful and sweet notes combined with its captivating packaging make it a truly enchanting choice. Whether for everyday wear or special occasions, this fragrance will leave you feeling glamorous, confident, and ready to embrace your inner princess.
Try Vera Wang's Princess Perfume Sample today!